How "Millenials" are putting pressure on your WAN?
 Author: Mylene Menaut
Internet, our new best friend
Entreprises do not work in isolation.  They are an integral part of society.  In the same way as they must adapt to the evolution of their clients' needs, or their competitors' positioning, they must know how to change when society changes. As we all know, hyper connectivity between individuals is steadily growing. The latest generation is challenging enterprise work codes; social networks are an integral part of their life, Internet is their new best friend and applications are replacing teachers, parents, institutions … This being the case not only at work but also at home!  Managers, don't imagine you can ban your future employees from using Youtube, Facebook, Deezer or other bandwidth hungry applications.  The Web is essential.
Generation Z will also be organised very differently to that of General X (1966 – 1985). The frontiers between private and professional life are closing, the new generation is asking for flexible hours, on demand; they want to switch from their reservation for a ticket to Berlin on TripAdvisor to the minutes of their meetings in 2 clicks. The traditional breakdown of work hours, breaks, are far too strict for this new generation which wants more autonomy and freedom.  And the volume of internet traffic is directly impacted by all these changes.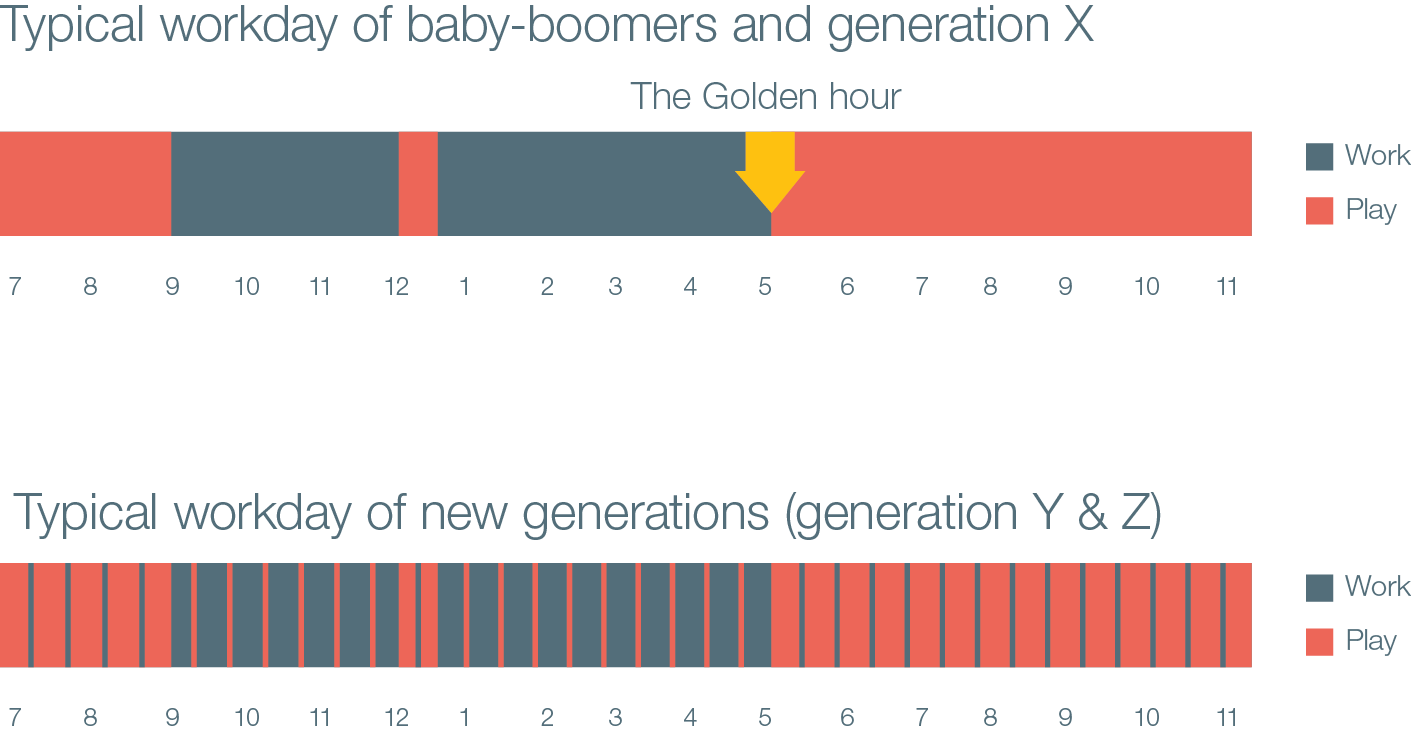 Uncompromising when faced with sluggish bandwidth and poor quality applications
Sulky when confronted with slow video streaming, a fruitless Google search, a photo which doesn't download on Facebook, a communications breakdown during a telephone call, today's generation do not let anything slip.  What is more, they are increasingly becoming "consumer-players", the next generation is refusing to pay more, and insists on an experience which is perfect, transparent and smooth.  Today they represent 25% of the workforce and in 10 years time this figure will be 75%.  In other words, they are establishing tomorrow's standard… So take note! 
How can business applications be protected as they increasingly move into the Cloud? What solutions can enterprises come up with when confronted with a complete change in attitude amongst their employees, whilst at the same time having to manage the digitalization of their tools?  How can you get the most from your WAN and face up to these challenges?
Guess what? You've got to change. Enterprises must understand and integrate these new trends, because it's through their own networks that all this happens. Whereas before internet access was centralised, it is now more relevant for it to be closer to the user in order to optimise speedy access to the Cloud, rather than using WAN legacy networks which have a fairly high bandwidth/price ratio.
Hybrid networks: A cost-effective solution to expand and secure your WAN network. 
These days, a typical branch office WAN uses MPLS and pays premium-priced WAN connectivity to connect to the data center. Typical network availability is 99.95 percent for a single line which amounts to 4 hours and 23 minutes' downtime per year. Great. However, MPLS service is pretty expensive and has limited bandwidth.
On the other hand, business internet services have completely changed. Over the years, Internet reliability and availability have been improving. Nowadays, internet reliability is even approaching that of premium-priced WAN services whilst prices are dropping.
The idea is therefore to use the Internet network as a full-blown component of the WAN infrastructure.  Enabling dual transport paths between the branch and the data center delivers premium WAN reliability at Internet prices. These solutions secure traffic on the internet link. They automatically route traffic to the best link according to the network policy.
Internet links are, by default, used to carry non-business traffic or the least important applications. Critical applications are still carried by a more stable MPLS network. The choice of having a default Internet/MPLS transmission network is questionable if the quality of one of the networks worsens. This dual architecture therefore presents the best of both worlds: the advantageous tariff of internet connections with the reliability of MPLS links and high availability.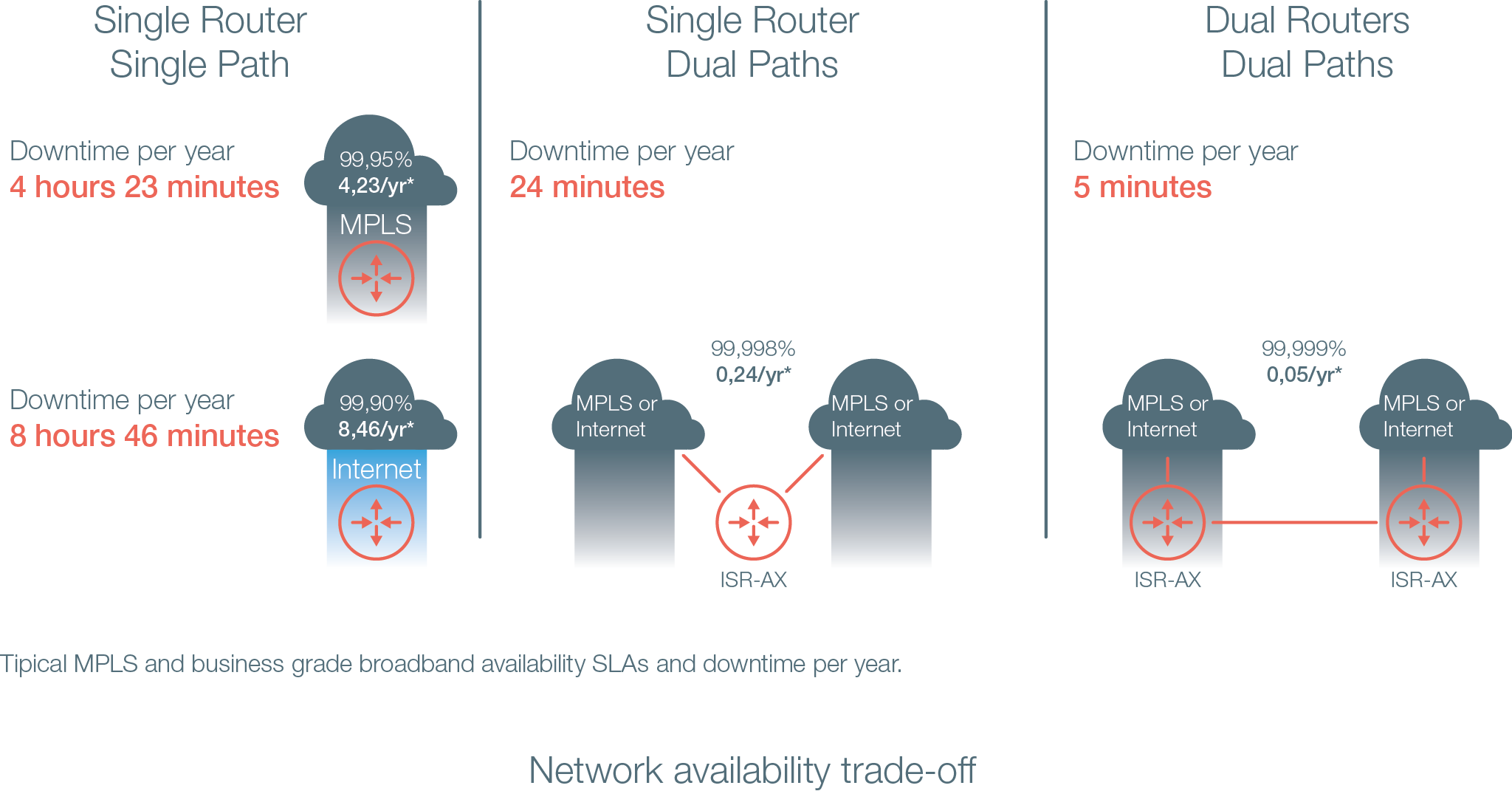 The chart below compares four IWAN based case studies that substitute cost-efficient Internet services for high-cost MPLS. And we can see, IWAN solutions maintain high availability and allow the branch office to save recuperate costs in less than a year. ROI computations for three years are very satisfactory .

Keeping control of your hybrid network.
Even though these new forms of WAN architecture appeal to most DSI, they also scare them off.  The "Black Box" element of these systems limits the take up rate.  Am I absolutely sure that my critical applications are carried by the right network?  Will the route changes be too frequent?  Are the decision for route changes justified? ….
It's necessary to have a monitoring tool which is capable of showing what is happening on the network and why.
LivingObjects has optimized its eye.lo multi-vendor performance platform for these types of networks. It uses all the metrics provided by network elements to give a simple and intuitive vision of hybrid networks.  Where is my traffic going?  Which is the best network?  Why has the traffic switched from the MPLS link to the Internet?  How can I check that my network is more reliable after switching over to the hybrid architecture?  These are just some of the questions which eye.lo can answer simply and clearly.
And lastly, hybrid networks allow a quick transition to new digital usages, whilst at the same time improving user service quality.  LivingObjects' platforms ensure the smooth running of these technologies.  So why do without?