Enterprises,
understand what is happening on your network.



Your enterprise is undergoing a digital transformation. In today's world, where the business landscape is changing fast, network infrastructures play a vital role. To be competitive you need to pursue strategies like off-sharing, outsourcing and smart sourcing. Most of your applications and services are moving into the cloud and your business now relies on it. Your bandwidth needs are growing and your WAN is increasingly under pressure. Enterprise bandwidth monitoring and application management has become a strategic requirement. So, How do you manage it all?
It's simple as eye.lo

Troubleshooting Workspace
---
Browse your network with use-case centric dashboards, application
based metrics & drill down elements for more details.

Detect Problems
---
Get an alert when your network elements and applications are out-of-policy.
Drill down to network health-checks to understand why.

Hybrid Network Visualization
---
Display network performance per network paths, identify route changes,
root-causes and make sure your hybrid network works well

Customizable Reports
---
Automate periodic network management tasks by building reports for everyone in the company,
from synthetic top management overview, to expert visualization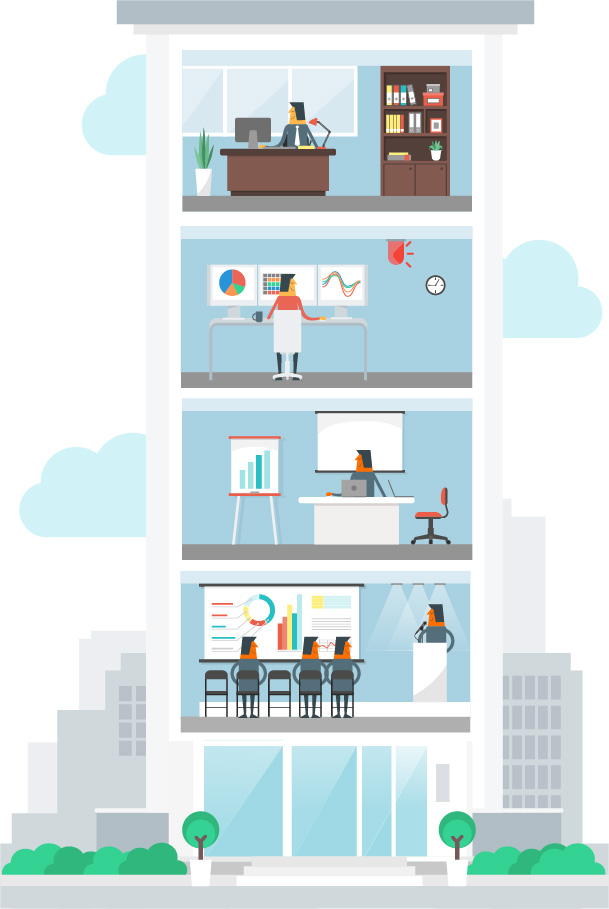 Your network is complex.
This doesn't mean your network management tool has to be.
Your WAN will hold no secrets for you

eye.lo knows how to handle your key network data and offer you an end-to-end visibility of your network. By collecting and displaying TCP and UDP application performance metrics, you can measure the end-user experience. With a deep packet inspection, eye.lo can show you what are the applications being used and the delay repartition between LAN, WAN and application. You finally have the right visibility which gives you an in-depth understanding of what is happening on your network. Get the most of your WAN and optimize it performance.
Troubleshooting problem is faster
Now that you see what is happening on your network you can fix it! By crossing key performance indicators (SNMP, Standard NF, IWAN) in same views, you can drilldown from area overview to specific site and application. From a use-case centric dashboards to another one,  find the root cause of your network issue. With the flow visualization, make sure Path Management feature is intelligently load balancing traffic over all WAN paths to protect critical applications.
Be more agile. Be more focused.
eye.lo is highly customizable. You can personalize every module with your own applications and key performance indicators which allows you to create a focused and business centric reporting solution. Automate your daily Application and Network Elements health-checks. eye.lo helps you to be more agile and productive by detecting out-of-policy network element and application.
Service Providers, enhance the value of your offers.
Simply bring expertise and agility to your customers.
Changes are now operating on your customers network. Enterprises are moving to cloud-based applications which increase bandwidth consumption and put pressure on their WAN. Consequently, customers' QoS expectations are growing too. They need better availability, higher bandwidth, good responsiveness and great user experience.
To transform themselves with technology, it is time for the network to rise up and fulfill its full potential as the true enabler of business. And as a Service Provider, you can help and bring value-added to your customers by offering them WAN optimization solution and application management tool.

Multi-tenant Management Capability
---
Customizable platform fulfilling your marketing and
operational requirements according to your connectivity services.

Application Aware Solution
---
Without any additional hardware on customer site,
leverage Cisco IWAN features to provide application aware network management.

Scalable Architecture
---
Resilient, multi server infrastructure, field-proofed solution
for tens of thousands of CPEs and thousands of customers.

Customer SLA Reporting
---
Advanced report builder to automate manage services team reports.
Focus on value added service rather than time-consuming report building.
Be your customer's digital transformation partner
Designed for large networks
Easy to install, easy to deploy, eye.lo is integrated easily into your provisioning workflow. For legacy and new architecture, it is simple to admin a massive deployment. Once you have deployed a customer it is like you have deployed thousands of them. eye.lo was developed to be highly scalable and made for large networks. The extreme flexibility and scalability yields a very short lead-time from the order to the delivery, resulting in value from day one.
Revolutionize your customers' relationship
Your customers are heavily challenged by new network paradigms and need to success their digital transformation. eye.lo is the SD WAN reporting solution for helping them to do not miss the check mark! You can now pave the way to new application-centric services and increase the value perception of your SD WAN solution. By managing specific set ups for each customer, you can expand your network expertise to applications management.
Standardize your managed services
eye.lo is an unified network management solution which allows an abstraction of the WAN technology complexity. By simply creating templates and automating your reports, you can make eye.lo your competitive advantage and enforce the stickiness of connectivity services. Standardizing your managed services improve the knowledge transfer from experts to newcomers.